Are you an avid photographer, tired of using Cameras with Auto Adjustments??? If yes, you might need to get rid of your Compact Digital that bounds your creativity. It's high time to buy an entry level DSLR for yourself. A Camera that turns your visions into reality can be your best partner. It would provide you full manual control over your snaps. The power of ultimate control on a Single Lens Reflex makes it a highly precise device for any Photographer. So, there's no doubt about buying a Digital SLR. Let's start with an Entry Level DLSR to get yourself accustomed to it. But, wait!!! With more than a Hundred Entry Level DSLRs spread in the market, its quite tough to choose the best among them. However, we have reviewed some of the best Entry Level Digital SLRs in the market and given our best to help you make a sensible choice.
Set your Mind Before you Hit the Market
Ask yourself a few questions before searching for your SLR. You know your interest best. Yet again, you know the features that a perfect camera for you should have. So, set a few parameters that would define your choice of an Entry Level Digital SLR.
Some of the most common parameters should be:
Price: Fix a budget that makes you comfortable. Be sure to linger around that budget.
Design: Almost all of us have a fascination for design. Some people love to have a sturdy, bold body, while some would like to have a lighter and portable one. Although, SLR's are rarely available in a light and sleek body, technology meets the needs of everyone. The same big DSLR is available today in a small handy design.

Features: The most essential factors lie here. You may like to have some features without which your journey to buy the Best Entry Level DSLR would be unsuccessful. You can never deny such features. Make a list of all these and then go on to find the DSLR that fits you best.

Some Issues: Some other issues may also matter while buying your DSLR. For example, if you are a Wildlife Photographer, you would definitely need a Camera with a better Battery Life. On the other hand, if your Laptop supports MMCs and not Memory Sticks, perhaps you would not opt for a Sony. Even Battery types could influence your choice. If you have existing Camera supports AA rechargeable batteries, may be you would like to stick to that with the same set of chargers. Else, you might try the custom batteries like the ones provided by Sony.
Now, Let's walk into the Store
10. Sony Alpha DSLR-A330
It's a great Entry Level DSLR to be boasted for. Sony A330 is packed with the famed Bionz Processor that delivers exceptionally clear image. Starting at a Price of $416 this camera is also renowned for its Fine Autofocus features. For all those speed photographers out there, you can target the A330 as your Entry Level DSLR. But, since this camera comes with an Optical Zoom of only 3X, you might have to spend some more for a standard Telephoto Lens.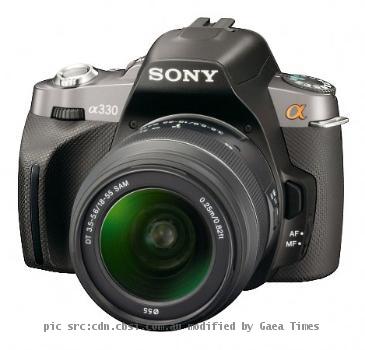 Key Features:
Resolution: 10.2 megapixels
Optical Zoom: 3 x
Processor: Bionz
Fine Autofocus
9. Sony Alpha DSLR-A230
The A230 is a better deal as compared to its elder brother A330. Starting at a Price of 379$, this camera provides the most amiable experience for first hand users. With a weight of 15.9 oz, the A230 is a bit heavy to handle and can cause strains if held for a long time. It also provides special effects like Vivid, Sunset, Neutral, Portrait, Landscape, Night View, Black & White. With unique sensor features like Anti-Dust coating, Dust Reduction (image sensor vibration) the A230 provides a lot more than others at this price.
Key Features:
Resolution: 10.2 megapixels
Optical zoom: 3 x
Anti-Dust coating
Dust Reduction
8. Canon Rebel XS
A Rebel is always rebellious and so is the Canon Rebel. The Canon Rebel XS has a great photo quality that beats the competition. Starting at a Price of $459, this Entry Level Digital SLR has a solid performance record. But, the dark side of this Camera is that it comes with no spot metering and has a maximum ISO of 1600. Interestingly, Canon has made this camera available in 2 colors. The 1st one comes with an all Black body and the 2nd one with a double toned silver and black style.
Key Features:
Resolution: 10.1 megapixels
Optical zoom: 3 x
Price: $459,
7. Olympus E-620
A DSLR store is incomplete without an Olympus on the racks. The Olympus E-620 gets to stay at the 7th position among the top 10 Entry Level Digital SLR cameras. With a range of Advanced Features, the E620 comes at a good budget of $579. But, the only set back in this camera is that is lacks a dedicated AF assist lamp.
Key Features:
Resolution: 12.3 megapixels
Optical zoom: 3 X
Price: $579
6. Nikon D3000
If you are passionate about Photography, it'll be very hard to miss the Nikon D3000. Although, this DSLR has been at the 6th position in our list, the number of fans of this Camera seem to be highest. With an exceptionally user friendly UI, Nikon D3000 has topped our list in terms of usability. The price of this camera starts from $449.
Resolution: 10.2 megapixels
Optical zoom: 3 x
Price: $449
5. Canon EOS Rebel XSi
The Canon EOS Rebel XSi has never been famed for its looks or design. It stands out of the crowd delivering awesome snaps even in the most adverse conditions. It speaks for performance and quality. If you are ready to compromise with the looks of your camera, choosing this one would be a wise decision.
Resolution: 12.2 megapixels
Optical zoom: 3 x
4. Canon EOS Rebel T1i
It can be touted as the better-than-basic DSLR. It is said to be annoying for several reasons, but it covers all its mistakes by delivering high quality photos. It comes with an 18-55 mm lens and is a good choice at $575.
Resolution: 15.1 megapixels
Optical zoom: 3 x
lens: 18-55 mm
Price: $575
3. Nikon D5000
Speed! Do you remember the constraints I had discussed at the start of this article? Put them to use if you can now. For all the speed photographers out there, the D5000 is the most apt camera for you. Look for no other. No other entry Level DSLR camera can give you better results than the Nikon D5000.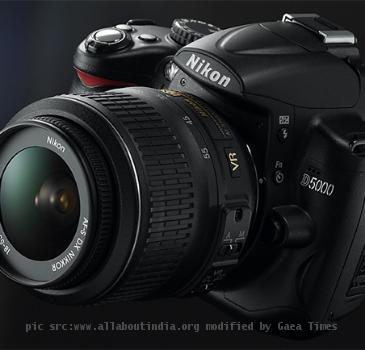 Resolution: 12.3 megapixels
Optical zoom: 3 x
2. Pentax K-x
Seems like the Pentax lovers got some relief!!! The Pentax K-x had to be chosen as the 2nd best Entry Level DSLR. It's a nocturnal shooter. It can take better images than any other camera at night. The noise is well controlled at a high ISO. But, due to some flaws like unreliable image stabilization, we have given it 2nd position.
Resolution: 12.4 megapixels
Optical zoom: 3 x
Well Controlled Noise at a High ISO
1. Canon EOS Rebel T2i
Do you need to take quality Pictures and Videos together??? Well then, the Rebel T2i is a great Camera to start with. A breed like the Canon EOS Rebel T2i is hard to find. At a price less than $1000, EOS T2i makes us consider it as the best Entry Level Digital SLR for 2010.
Resolution: 18 megapixels
Optical zoom: 3 x
Price: $1000
As every day passes, the Focal Hunters will keep on bringing new heroes into the market. With more technologies flooding in, we can hope for some better Entry Level Digital SLRs as well. So, what are you waiting for? Go and buy your new DSLR. And do not forget to let us know about your experience.
Solution for editing H.264/MOV footages shot by Canon EOS 7D,550D camera
Source from: http://gadgetophilia.com/10-best-entry-level-digital-slrs-dslr-for-2010/